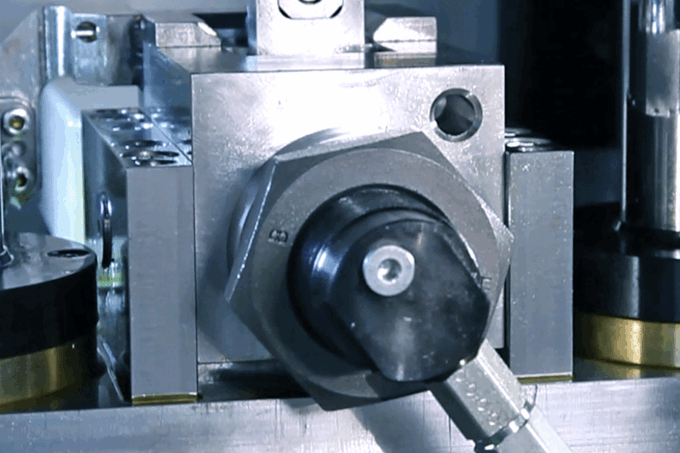 Reducing set-up times is becoming an increasingly important issue in order to reduce production costs. The aim is to make the set-up process as uncomplicated, tool-free and automated as possible. The new Leistritz tool clamping system makes it possible.
Cutter bar and feed bar are securely clamped hydraulically at the push of a button. A positioning pin in the tool holder ensures the tool's precise position. Readjustment is no longer necessary. At the same time, the cutter guide bar can be precisely positioned without readjustment by means of a zero point clamping system.
The procedure for determining the workpiece zero point enables the precise recording of the cutter position after installation. The measured value is transferred to the control system. This then calculates the manufacturing parameters independently of the current tool position and ensures optimum machining precision. The result is: The effort for tool adjustment is significantly minimized, productivity and quality are increased.
With Leistritz' so-called condition monitoring, all systems can be intelligently networked. By using intelligent sensors that provide information on the machine behavior one can gain a quick overview of the systems' status.
For more information on Smart Polymat, please CLICK HERE.